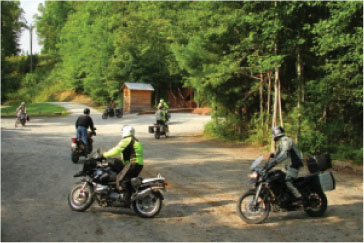 09 Apr

Adventure Motorcycle Training (1 Day)
Adventure Motorcycle Training (1 Day)
Do you want to concentrate on the initial training only? You can purchase day one only for $475, training only with lunch included, lodging is NOT provided. If you decide to continue after the first day, you will be given the opportunity to pay the difference and complete the full course. The requirements listed below apply to both classes.
If you are interested in integrating motor operations into your current agency, contact us for more information.
Adventure Motorcycle Training (1 Day) Details
Length: 1 travel day
Class Size: Minimum 3 students – Maximum 6 students
What's Included: class materials plus some goodies!
Motorcycle: Bring your own adventure/dual sport motorcycle (required) or contact us for rental information.
Requirements:  Students must have logged a minimum of 2500 miles and completion of a basic off-road skills course (i.e the MSF Dirt Bike School or equivalent) is recommended.
Minimums: Safe adventure/dual sport motorcycle, DOT-rated helmet, jacket, sturdy pants, gloves, eye protection and over-the-ankle boots are required. Long sleeves and a Camelbak® or similar hydration system is recommended for summer, Ear Buds with 3.5mm male connector.
Location: Hampton Inn Brevard, NC
Price: $475.00
REGISTER NOW