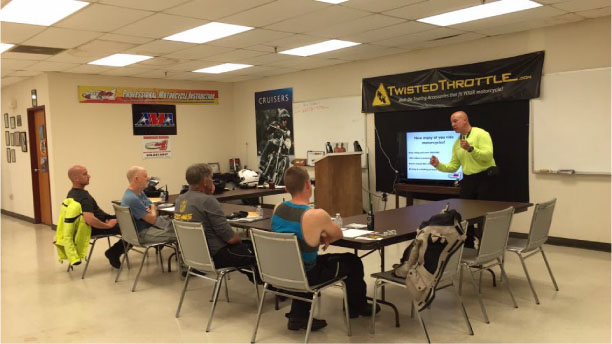 14 Jun

Private Training
Customized Training
Over the years, MotoMark1 has offered many different types of training from ATV to sidecar to expert Law Enforcement/EMS. We have limited our scheduled courses to those that meet the needs of most of our students. However, we believe in training for everyone! If the classes offered do not meet your specific needs, we can still provide instruction to you. All the training detailed below is on an appointment only basis. Please call for more information or to set up a time for training.
Other Specialized
Group RidingBy Appointment Only
Uncommon for motorcyclists to get together for a weekend group ride, a charity poker run, or just for an impromptu group ride at the weekend breakfast hangout. After all, what's better than a cup of coffee with fellow riders? But how often have you encountered riders with different skill levels, and been forced to adjust your riding style as a result? Have you ever wondered if there was a better way to ride in groups so that it seemed a little less chaotic and nerve-wracking? This course is a structured program that teaches distance/formation riding, safe passing procedures for the group, and universally-recognized hand signals. We emphasize utilizing group positioning as single file, staggered, abreast and slide formations. Your passenger will become a part of the team, helping you look out for danger, keep track of the route, and contribute to a memorable ride.
When everyone is on the same page, it makes for a clean, cooperative journey with fewer surprises, more visibility as a group, and more respect from four-wheel vehicles. If you are a group leader or simply take part in a number of group rides, this workshop is a must. Even if you happen to ride with people who have not had this training, there are basic things you can pass along to your group to make things safer. Take the lead by taking this course, you'll help both you and your friends enjoy the ride.
We find that this course is outstanding for clubs or even a large group of friends, and we always make sure that the passenger is part of the riding team. We can arrange specialized on-site training for dealerships and rider clubs–we can come to your group. We require a minimum of 10 riders to do an on-site course originating at your location, and require a room suitable for the classroom portion, a classroom or restaurant meeting room works fine.
Military, Law Enforcement and EMS Training
By Appointment Only able to military and law enforcement/public service units and personnel. Please call us for more details. We can come to your site or host your off-road training at our training facility in Harrells, NC.
These courses are custom-designed to meet the needs of each agency. Our instructors are certified military and law enforcement trainers with active duty experience. Skills taught include low speed, high speed, tight traffic, curve skills, braking, collision avoidance, on road skills and distraction tactics for divided attention, night training and emergency response.
If you are interested in integrating motor operations into your current agency, contact us for more information.
The Best prices on tactical, outdoor gear, athletic gear, eyewear and more.
Military and First Responders Only! If you have ever served…you're in!
Other Specialty
Do you have a special need that's not been addressed? Give us the chance to provide whatever type training you need, whether it's for a sidecar or a special circumstance like escorting a bicycle race. We have experience in all sorts of areas and have done many types of escorts and driven many types of vehicles. Just ask and we'll let you know how we can help you!
A 2 hour minimum is required for any private instruction and we can offer multiple sessions if needed. Some students respond quickly and some need a little more time. We are available during the week as well as weekends and arrange times to make it convenient for both the instructor and the student.
If you are interested in integrating motor operations into your current agency, contact us for more information.
REGISTER NOW
Upcoming Classes
| Date | Class | Location | Status | Fee | Options | |
| --- | --- | --- | --- | --- | --- | --- |
| Jul. 9, 2019 | AAA Driver Improvement Program 4 Hour | Burlington | Open | $65.00 | More Info | Register |
| Jul. 12, 2019 | AAA Driver Improvement Program 4 Hour | Burlington | Open | $65.00 | More Info | Register |
| Aug. 6, 2019 | AAA Driver Improvement Program 4 Hour | Burlington | Open | $65.00 | More Info | Register |
| Aug. 9, 2019 | AAA Driver Improvement Program 4 Hour | Burlington | Open | $65.00 | More Info | Register |
| Sep. 10, 2019 | AAA Driver Improvement Program 4 Hour | Burlington | Open | $65.00 | More Info | Register |
| Sep. 13, 2019 | AAA Driver Improvement Program 4 Hour | Burlington | Open | $65.00 | More Info | Register |
| Oct. 8, 2019 | AAA Driver Improvement Program 4 Hour | Burlington | Open | $65.00 | More Info | Register |
| Oct. 11, 2019 | AAA Driver Improvement Program 4 Hour | Burlington | Open | $65.00 | More Info | Register |